Acyclovir is a type of antiviral medication. It inhibits the herpes virus's growth and spread in the body. It will not cure herpes, but it will help to alleviate the symptoms.Herpes virus infections, such as genital herpes, cold sores, shingles, and chickenpox, are treated with acyclovir.Treatment of genital herpes outbreaks and reduction in outbreak frequency, stopping the development of new sores and lessening itching and pain, and reducing the danger of viruses spreading to other parts of the body in patients with inadequate immunity are some of the other uses of acyclovir. You can buy Acyclovir pills online from internet pharmacies, however they must be purchased with a prescription.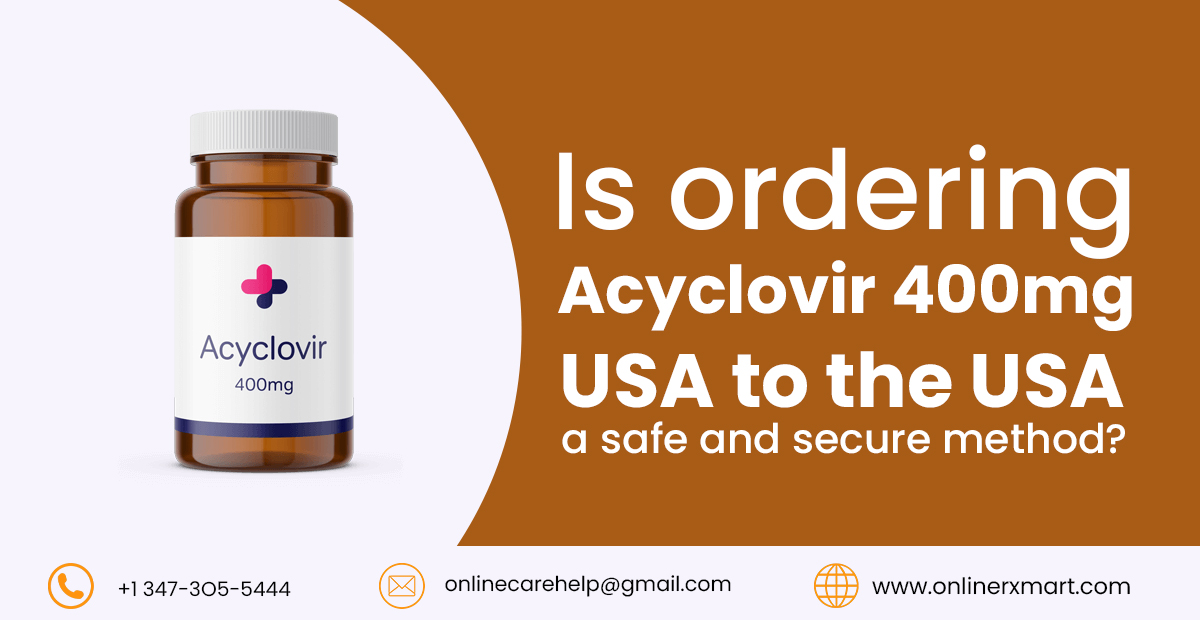 Dosage and administration
This medicine's dosage will vary depending on the patient. Follow your doctor's orders or the label's instructions.
Ø Adults and children 12 years of age and older should take 200 milligrammes (mg) five times a day for ten days to cure genital herpes.
Ø For chickenpox treatment, 800 mg four times a day for five days for adults and children weighing more than 88 pounds (40 kilogrammes).
Ø Adults and children 12 years of age and older should take 800 mg five times a day for seven to 10 days to cure shingles.
Acyclovir tablets can be taken by mouth with or without meal. When taking these pills, follow your doctor's or consultant's directions. If you're taking this drug as a liquid, make sure you shake the bottle well before each use. Take this medication at the same time every day at consistent intervals, as the amount of drug in your body functions best when it is kept steady.
Safety measures
· Even if you feel better, do not miss any doses and complete the entire course of treatment.
· While using this medication, drink lots of water. Dehydration and kidney damage can be avoided by doing so.
· Use barrier contraception (condoms) if you have genital herpes and avoid sexual contact while the sores are present.
· If you are pregnant, planning to conceive, or breastfeeding, tell your doctor.
Acyclovir effects
Nausea, headache, diarrhoea, or vomiting are common acyclovir side effects, but they are not life-threatening. It's quite unlikely that this medicine may cause a severe allergic reaction. If you have a weak immune system, however, taking this medication may cause problems with your kidneys, blood cells, and other body organs. If you experience any of the following uncommon but adverse acyclovir effects, seek medical help right away:excessive exhaustion, irregular heartbeat, easy bruising/bleeding, new fever, bloody or dark urine, severe stomach or abdominal pain, yellowing skin/eyes, a sudden change in vision, consciousness loss, convulsions.
Buy Acyclovir tablets online
If you planning to buy Acyclovir, you can do it at your local pharmacy, but if it is not available there, you can order it online. Acyclovir can be purchased online without any problems from the comfort of one's own home. There are a number of well-known online drugstores that provide 100% genuine and authentic medicine aid. If you have a valid prescription from your doctor, you may easily purchase Acyclovir online and pay with your credit card. You can also order Acyclovir thru cash on delivery if you don't want to pay in advance.
Call us: +1 347-3O5-5444 USA to get medicines at your Door Steps.
You Can Also E-mail [email protected].
visit the Website Here: https://www.onlinerxmart.com